"Godfather of Oversight" Joins Ruthless Podcast
WEST DES MOINES — Senator Chuck Grassley joined the Ruthless podcast hosted by Comfortably Smug, Josh Holmes, John Ashbrook and Michael Duncan to discuss breaking news regarding FBI whistleblowers who confided in Grassley to report political bias tainting investigations in the Department of Justice.
Host Josh Holmes applauded Grassley's work by saying:
Grassley is the "godfather of oversight and an absolutely irreplaceable Senator."
"What's so impressive about your body of work on oversight — both in the government and in terms of private enterprise out there — it's about a fact-finding mission. Over the years, you can look, there are no partisanship attributions that you can make to your work. It's basically where the facts fall."
"When your Democratic colleagues have brought things to your attention that warrant investigations, you're the first one through the door."
"God made a Grassley for all the right reasons and we got to have you right exactly where you are for the foreseeable future to get any kind of accountability for any of this."
A hallmark of Grassley's work for Iowa is his tireless commitment to government accountability. Grassley has conducted a multi-year investigation into the Department of Justice to examine and expose political bias that undermines public confidence in the nation's top law enforcement agency. This week, he shared new information from FBI whistleblowers that sheds light on politically charged investigations, including those involving President Donald Trump's campaign and President Joe Biden family's foreign financial entanglements.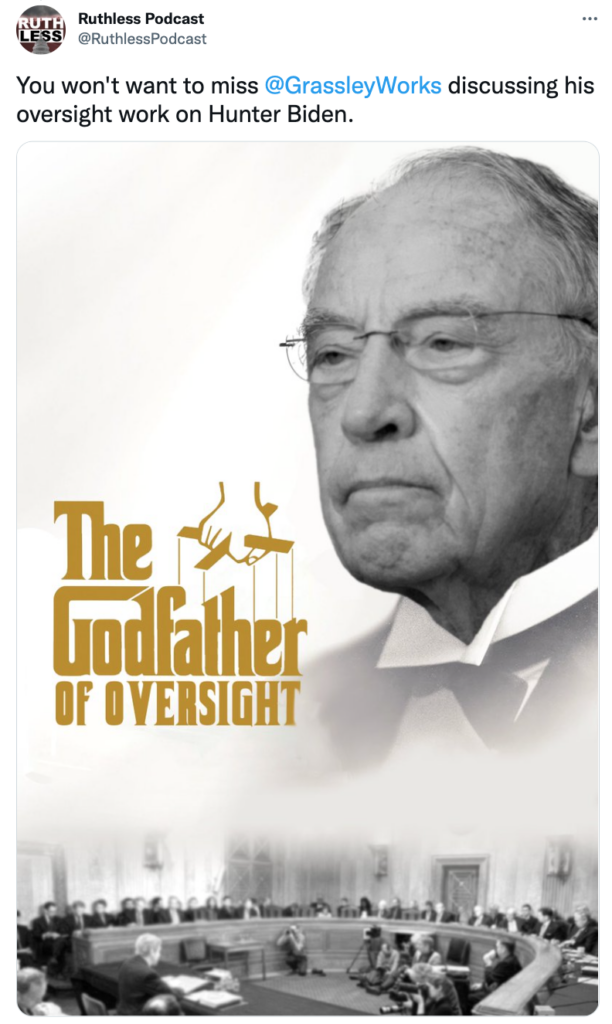 ###