I'm Not Done Yet
WEST DES MOINES — Today, the Grassley Works campaign announced its final television advertisement of the campaign. The closing spot reminds Iowa voters of Senator Grassley's tireless commitment to representing Iowans, waking up to run at 4 a.m., meetings in all 99 counties at least once every year and leveraging his experience and bipartisan relationships in the U.S. Senate to improve the lives of Iowans.
As the father of wind energy and a strong, outspoken advocate for ethanol, the advertisement also reminds Iowans how Senator Grassley has delivered to boost the state's economy, create jobs and improve our quality of life.
And finally, the advertisement features Senator Grassley's wife of 68 years, Barbara Grassley, calling his name on their family farm in New Hartford as he takes a chainsaw to a log. "Chuck? Chuck?? Chuck???"
"Barbara," Grassley responds, "I'm not done yet!"
"Senator Grassley's tireless dedication to serving the people of Iowa is unmatched. Now known as the Full Grassley, he has set the gold standard for representative government in Iowa and across the country. Senator Grassley will work with anyone if it means delivering positive results for Iowa. Grassley works and works and works. But there's more work to be done to support Iowans, including his bipartisan leadership to cut prescription drug prices, bring fairness to the cattle market and stop the flow of fentanyl from killing our kids. He's not done yet," Grassley Works Communications Director Michaela Sundermann said.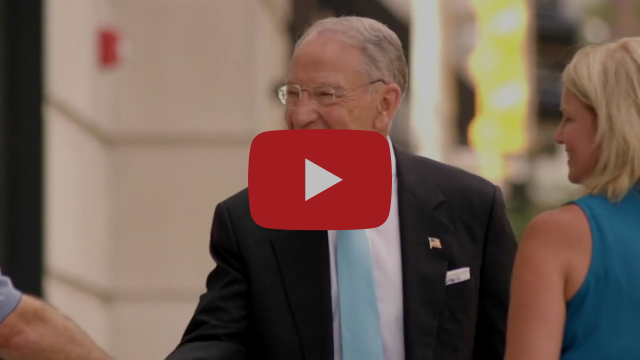 BACKGROUND:
This year, Grassley completed the 42nd year in a row of his annual 99 county meetings.
Grassley holds the record for the longest period of time of all U.S. Senators in U.S. history without missing a vote.
Grassley, alongside Nebraska Senator Deb Fischer and Montana Senator Jon Tester, wrote legislation to hold big packers accountable and ensure family farmers can get a fair price for their high-quality beef. Their bipartisan legislation passed the Agriculture Committee this summer and awaits a vote in the full Senate.
Grassley and Oregon Senator Ron Wyden authored the Prescription Drug Pricing Reduction Act of 2019. This bipartisan legislation would save taxpayers $95 billion and seniors $72 billion by driving down prescription drug costs for consumers, including by preventing prices from rising faster than inflation and capping out-of-pocket expenses. Grassley currently has six bipartisan bills he's leading or supporting that would bring down the price of prescription drugs.
Grassley and Minnesota Senator Amy Klobuchar are leading the American Innovation and Choice Online Act, which tackles Big Tech's ability to snuff out small businesses by unfairly preferencing its own products. Their bipartisan legislation passed the Judiciary Committee earlier this year and awaits a vote in the full Senate.
Grassley and New Hampshire Senator Jeanne Shaheen's bipartisan Survivors Bill of Rights in the States Act expands rights for survivors of sexual assault and improves opportunities for justice. At Grassley's urging, this bipartisan bill will receive a vote later this year.
###