Iowa Farm Bureau Backs Chuck Grassley, Champion for Iowa Agriculture 
WEST DES MOINES — Senator Chuck Grassley received the endorsement of the Iowa Farm Bureau today for re-election to the U.S. Senate. As one of only two crop farmers in the United States, Chuck Grassley is Iowa's voice for agriculture. He wrote bipartisan legislation to bring transparency to the cattle market for Iowa's independent producers and is steering it through the Senate. He's a fierce champion of biofuels, and protects farmers and small businesses from unfair double death taxes and heavy-handed federal regulations, such as the Waters of the United States Rule.
"It's an honor to receive the support of the Iowa Farm Bureau and its members from across the state who work 365 days a year to fuel and feed the world. As long as I'm serving in the U.S. Senate, Iowa farm families will have a voice at the leadership and policymaking tables in Washington, D.C.," Grassley said.
Grassley serves on the Senate Agriculture Committee, and he runs his fourth-generation family farm with his son Robin and grandson Pat in Butler County.
The Iowa Farm Bureau represents more than 160,000 member families across the state.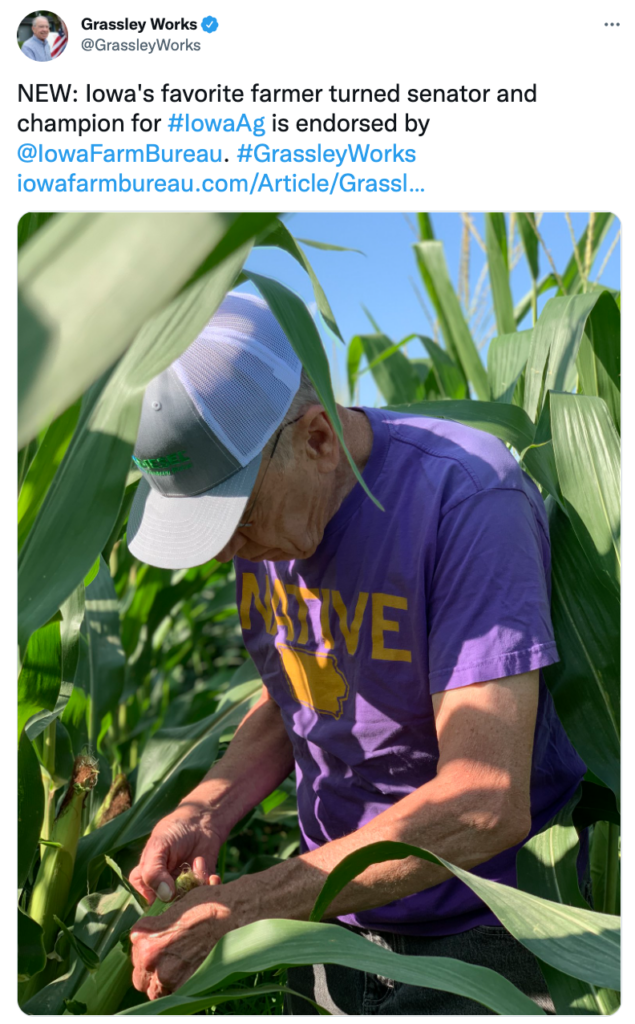 The full press release from the Iowa Farm Bureau is below:

The Iowa Farm Bureau Political Action Committee (PAC) has designated Sen. Charles Grassley as a "Friend of Agriculture" for the June 7 primary election.

Grassley is running for re-election to the U.S. Senate, where he serves as ranking member on the Judiciary Committee.

He also serves on the Agriculture, Finance and Budget committees as well as the Joint Committee on Taxation.

Guided by grassroots input from every county in the state, Grassley was selected based on his support of Farm Bureau policies, voting record and support of Iowa's farm families and agricultural economy.

"Sen. Grassley has earned the Friend of Agriculture designation because he has a record of strong support for issues important to farmers and rural Iowans," said Kriss Haglund, a Boone County farmer and Iowa Farm Bureau PAC Chair. "Sen. Grassley has long been a champion of agriculture in Washington, D.C. He has been a leader in defending taxpayers, promoting biofuels and fighting back against burdensome government regulations."

To find other Friends of Agriculture primary election designees for state races in your area, see the area section of this week's Spokesman.
###