MEMO: How Grassley Works for Re-Election in 2022
TO: Supporters of Chuck Grassley
FR: Grassley Works Team
RE: Campaign Strategy Update
DA: June 3, 2022
MEMO: How Grassley Works for Re-Election in 2022
Summary:

In September, U.S. Senator Chuck Grassley announced he is running for re-election. Since announcing, Senator Grassley has continued working as hard as ever in the Senate fighting for Iowans and returning home when the Senate is not in session to meet with Iowans.

Prior to Tuesday's primary election, we wanted to share an overview of the race. This spring, Senator Grassley crisscrossed the state from river to river and towns in between, including: 

Clive for the Iowa Faith and Freedom Coalition Spring Kick-Off Event, Decorah during a busy day of town meetings, Strawberry Point, Council Bluffs, Des Moines for the Iowa Prayer Breakfast, Burlington, Fairfield, Keosauqua and Bloomfield, Waverly, Peosta, Davenport for Scott County Republicans' "Pints and Politics" series, Vector Foods in Chariton, Cherokee, Sioux City for the third annual Youth Judiciary Summit, Onawa and Denison for town meetings, Carroll and Creston for the Republican Party of Iowa's 2022 District Conventions, Iowa City, Parkersburg, Honey Creek, Glenwood, Shenandoah, Ankeny, Ely for you know what, Goose Lake and Cascade, Primghar and Cedar Rapids, Cedar Falls for Memorial Day, and Cherokee. 

This spring, the Des Moines Register completed another poll of the U.S. Senate candidates. After the Iowa Poll in September projected Senator Grassley would win with an 18-point margin, top Iowa pollsters haven't released an updated head-to head poll because they realized it was not worth the time. There's no evidence the dynamics of the race have changed.

The Senator We Need is the Senator We've Got

It's long been said Senator Grassley is a representative of Iowa because he is Iowa. He has set the tone and standard for nearly every elected official in Iowa since voters first entrusted Senator Grassley to represent them. Take his annual 99 county meetings: 
Senator Grassley's partner in the Senate, Senator Joni Ernst, conducts her own version of Senator Grassley's 99 county meetings, as do Governor Kim Reynolds and Lt. Gov. Adam Gregg. Former Governor Terry Branstad also completed 99 county meetings while he was in office.
Congresswoman Ashley Hinson conducts meetings in all 20 counties in her district.
Congressman Randy Feenstra conducts meetings in all 39 counties in District 4.
Congresswomen Mariannette Miller-Meeks conducts meetings in all 24 counties in her district.
Even Congresswoman Cindy Axne completes meetings in all 16 counties in District 3.
Senator Grassley has set the bar high for elected officials. These face-to-face meetings help him to keep in touch with Iowans and hold the Federal Government accountable to taxpayers.
Senator Grassley takes that feedback and leverages his leadership in the U.S. Senate on behalf of Iowa. As the current ranking member of the Senate Judiciary Committee, he fights President Biden's open border policy, demanding more robust border security to stop human trafficking and drug cartels. He also led the confirmation hearings for Justices Gorsuch and Kavanaugh while Chairman of the Senate Judiciary Committee. During the Trump administration, Senator Grassley served as the president pro tempore of the Senate, third in the presidential line of succession.
Senator Grassley brings an influential voice to the policymaking table, securing key legislative victories to improve the lives of Iowans:
He is 100% pro-life and endorsed by National Right to Life and the Susan B. Anthony List, naming him a "fearless pro-life champion."
He is one of only two crop farmers in the U.S. Senate — blending real life work experience with legislative expertise on behalf of family farmers — leading him to receive an endorsement for his re-election from the Iowa Farm Bureau. From fighting Biden's double death taxes to fighting anti-competitive practices by the Big Four meatpackers, Senator Grassley fights to ensure Midwestern farmers don't get shortchanged in the Farm Bill.
When he was chairman and ranking member of the Senate Finance Committee, he helped steer President Trump's United States-Mexico-Canada Agreement through the committee and his Tax Cuts and Jobs Act into law.
He has voted seven times to end vaccine and mask mandates, and he's taking on Attorney General Garland to protect parental rights.
Senator Chuck Grassley outworks and outperforms all of his challengers. He knows if he does the very best job he can do— listening to and delivering for Iowans— he will earn the stamp of approval of Iowa voters at the ballot box. His tenacious work ethic is why President Trump gave Senator Grassley his "complete and total" endorsement.  

Iowa Democrats in Disarray

Iowa Democrats have been losing their influence across Iowa and the country for years because they leave behind the middle class in favor of a far-left ideological agenda. They support dangerous open border policies, government-run health care and abortion on demand up to the day of birth.

Inflation and soaring gas and grocery prices are hitting Iowans where it hurts most, and Democrats in D.C. are fumbling another international conflict.  

In April, 700 conservative voters heard from the Republican ticket in Iowa at the Faith and Freedom Coalition Spring Kickoff. What were the Democratic primary candidates doing that very same weekend? Holding a candidate forum with 30 people in attendance. Grassroots Democrats have given up trying to flip this seat because they know it's a lost cause. President Biden's approval is underwater with the American people and will drag Democrats down with him.

The trio of Democrats vying for the primary nomination aren't just having a hard time gaining an audience; they are also having a hard time gaining financial support. Senator Grassley holds nearly 8 times more in the bank than Democrats. The DNC's darling and D.C. Democrats' top choice, Abby Finkenauer, is continually being outraised by her primary opponent. Democrat politicians should read the tea leaves from the grassroots: their bad year is about to get a lot worse in November.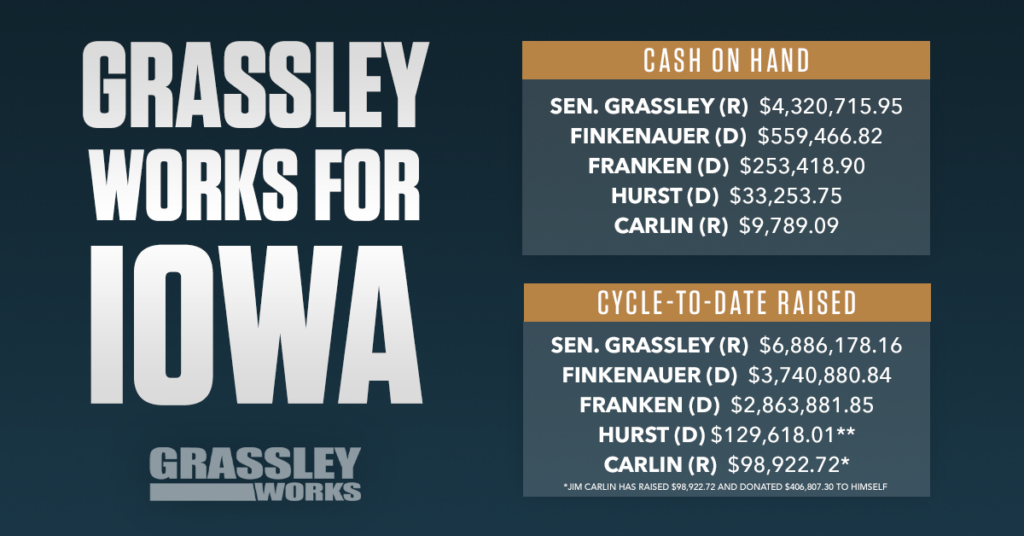 Democrats are fed up with ex-Rep. Abby Finkenauer's broken promises and lies. Despite claiming she is working hard for Iowans' votes, she did not put in the work to get enough signatures from voters to qualify for the Iowa ballot. As a result, she barely survived a challenge to her petition signatures, and she's only on the ballot because of a technicality. She didn't even bother responding to her base when they asked why she didn't work harder to gather support. Her base is now criticizing her lack of effort, her half-baked attempts to say the petition challenge was a partisan game, and her insulting attack on a respected judge who ruled against her. It reminded Iowans of her rank partisanship and that she voted with Speaker Nancy Pelosi 93 percent of the time.

Iowans showed her the door once when they voted her out of office after only one term in Congress, and they will show her the door again. You don't have to look much further than some of the latest headlines to see how far behind she is falling:
Consider this nail in the coffin from Art Cullen of the Storm Lake Times Pilot:
"Democrats, however, have reason to think hard about whether Finkenauer is the right person to take on Sen. Chuck Grassley, the venerable Republican. The failure to establish a cushion with nomination papers suggests organizational weakness and lax management. […] Finkenauer also ripped the district court ruling as being partisan, something done in the dark of night. In fact, the district court judge issued an evening ruling to give Finkenauer the time she needed to file a timely appeal […] She may think that her statements about the judge and the process helped her. Some may wonder about prudence."
Let's not forget that ex-Rep. Finkenauer's D.C. bosses also tried to kick Mike Franken off the ballot by bringing their top election lawyers to town, but that petition challenge was mysteriously withdrawn when they realized Finkenauer's candidacy was on the line. It's not hard to guess why: they were likely worried that if the challenge to Franken's petition went forward it would make it harder for Finkenauer to argue that the challenges to her petition didn't have merit.   

It gets worse for Iowa Democrats' campaigns too. Finkenauer and Franken can't seem to hold on to campaign staff — they've both had high turnover as their campaigns have failed to gain traction. At least Finkenauer doesn't have a previous staffer's spouse openly trashing her candidacy. Franken's former campaign manager and political advisor's spouse has publicly called him an "overly sensitive narcissist." 

The best Iowa Democrats could come up with are Abby Finkenauer, who Iowans have already fired; Mike Franken, who can't seem to make it past a primary election; and Glenn Hurst, whose extreme platform includes expanding the Supreme Court to 19 and spending $10 trillion on President Biden's Build Back Broke plan. Let's face it: Iowa Democrats are in disarray. 

Conclusion

Make no mistake — while Democrats take voters for granted, Chuck Grassley knows that this race is bigger than himself. He is grateful for the opportunity to represent Iowans and thankful for the trust Iowans have placed in him to represent them. Democrats will stop at nothing to advance their disastrous agenda that hurts Iowa and favors liberals on the coasts. Money will pour in from the coasts to make this race the most expensive race in Iowa history in an orchestrated effort to buy the votes of Iowans. Will you stand with Senator Grassley as he fights for the values we hold dear here in the Heartland? Now more than ever, we must send Senator Grassley back to D.C. because he is one of us, he fights for us, and he will stop at nothing to defend our way of life. 

Be sure you get out and vote on June 7. Iowa needs Chuck Grassley at the top of the ticket in November. Be sure and check with friends and neighbors to vote for Chuck on Tuesday. The Senator we need is the Senator we've got. 
###