The Senator We Need is the Senator We've Got
WEST DES MOINES — As Senator Chuck Grassley travels around the state working to earn every vote, the same issues come up: inflation, the economy, border security, and crime.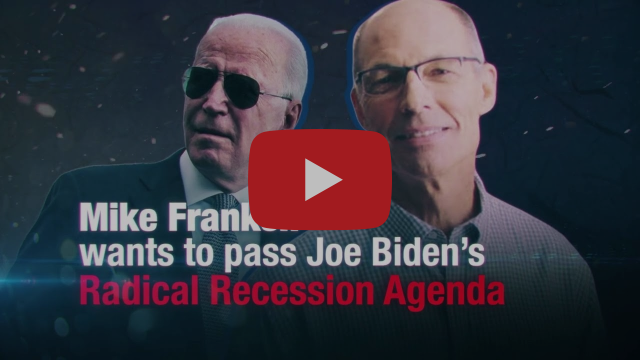 Joe Biden is failing America. Iowans are struggling under the Biden economy as 40-year-high inflation pushes up the cost of living for rent, groceries, utilities, gas and more. Mike Franken supports every single tax-and-spend policy of Joe Biden's that's caused historic inflation and has even said senators have 'no role' to combat inflation. On the other hand, Grassley is fighting reckless spending that's fueling the fires of inflation and pushing to keep more money in Iowans' pockets, including his legislation that rewards savings and adjusts the child tax credit and education-related savings benefits to inflation.
On Biden's watch, America's on the wrong track with rising crime in our cities, record waves of illegal immigration and historic numbers of overdose deaths from fentanyl pouring into local communities. Unlike his opponent, Grassley supports more border patrol agents and robust security at our southern border. Additionally, Grassley is leading bipartisan legislation to stop illicit fentanyl flooding across the southern border.
Notably, Mike Franken has expressed support for the "reapportionment" of police funding in a time of increasing crime. During a recent Good Morning America interview, Defund the Police advocate Cori Bush said: "Say 'reallocate,' say 'divest,' say 'move.' But it's still the same thing." Just like Bush, Franken is telling Democrats to mislead voters about their support for defunding the police. Meanwhile, Grassley firmly backs the blue. He has introduced and supported legislation that protects our communities at home and the public safety officers who keep us safe, including the Invest to Protect Act, the Comprehensive Justice and Mental Health Act, and the Fighting Post-Traumatic Stress Disorder Act.
While Mike Franken's campaign is based on his unflinching support for Joe Biden, bizarre insults toward Iowa and Iowans, and an out-of-touch, extreme agenda, Senator Grassley works to address the issues Iowans care about. Grassley has a proven track record and tireless commitment to fight inflation, secure our border, lower gas prices, hold the Biden administration accountable, and support law enforcement to keep our communities safe. 
The Senator we need is the Senator we've got.
###