There Is Nothing "Fabulous" About Recession, Historic Inflation
WEST DES MOINES — The U.S. Commerce Department today announced the economy shrank for the second quarter in a row. Grassley Works Communications Director Michaela Sundermann released the following statement on the United States entering a recession.
"Mike Franken must explain to Iowans why he thinks President Joe Biden presiding over a recession is doing a 'fabulous job.' Iowans are struggling with record 9.1% Bidenflation. Now they will deal with the consequences of the Biden Recession with no end in sight. Simply put, Mike Franken is out of touch and unfit to serve Iowans. Franken is a rubber stamp for the tanking Biden economy. His lockstep support for this administration shows a lack of judgment and a deep misunderstanding of what Iowans are going through in the Biden economy.
"Mike Franken supported every single misguided, disastrous liberal policy that led to this recession and historic inflation. There is no meaningful distinction between the Biden record and the Franken agenda. Sending a rubber stamp for President Biden to Washington would keep America on the wrong track and make it even harder for Iowans to get ahead and stay ahead."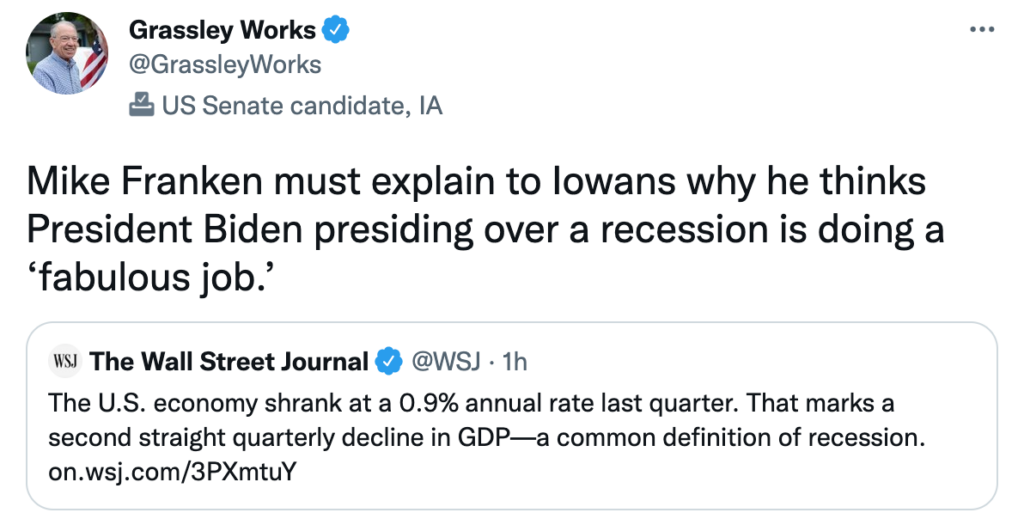 ###