Biden's Record-Breaking Failure for Iowans: 9.1% Inflation
WEST DES MOINES — This morning, the consumer price index increased by 9.1 percent, another 41-year record.
"President Joe Biden continues to fail Iowans as record-breaking gas and grocery prices empty their wallets from one week to the next. Senator Chuck Grassley holds question-and-answer sessions in every county, every year, and at his county meetings, the soaring cost of living is the number one concern. And yet, Mike Franken says Biden is doing a 'fabulous job' and 'Iowans are doing well.' Franken is marching in lockstep with Biden's Big Spending, Big Government agenda. Biden and Franken need to listen to families who are struggling to make ends meet. Come November, Iowans will show Biden and yes-man Franken exactly what they think about the Democrats' failed policies and soaring prices," Grassley Works Communications Director Michaela Sundermann said.
As THE Inflation Fighter, Senator Grassley has introduced legislation to clean up Bidenflation and keeps the pressure on the Biden administration to stop its reckless tax and spending sprees.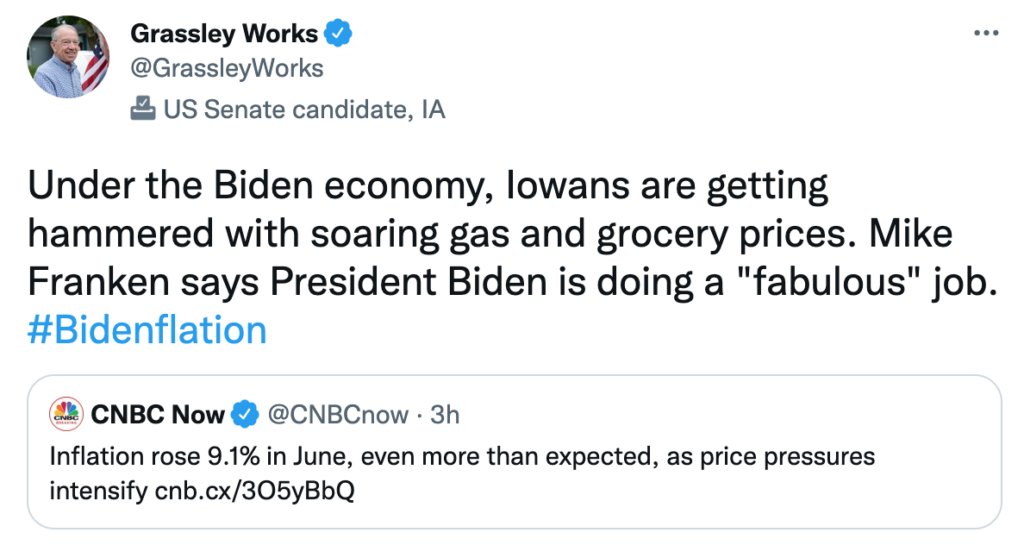 ###